We make it here
Kellerhaus chocolates are made fresh daily.
Did you know?
Our certified chocolatiers make our chocolates and fudges in Haus using original recipes and premium products since 1906. Our collections include milk, dark, and white chocolate creams, caramels, jellies, turtles, clusters, nonpareils, and so much more. Check out our assortment of chocolate boxes and gift trays.
Buy Here
Chocolate Covered Anything!
We also use our chocolate to create your favorite chocolate covered treats including pretzels, cherries, cookies and a whole lot more.
See what we have
Chocolate Covered Cherries
Just one of the many items we coat in chocolate. We dip our cherries one-by-one. Our customers love them.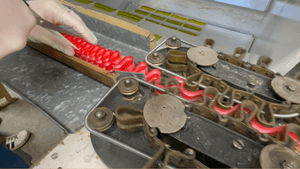 Christmas Ribbon Candy
We only make ribbon candy right before Christmas. The outside temperature and humidity limit our ability to make it. Keep an eye out for when we start taking orders.
Happy Holidays!
We have seasonal treats which are available for a limited time and can be purchased in the store or by placing an order. Some products may not be displayed online, so come visit us.
Fundraising & Corporate orders
We have the capacity to do fundraisers and corporate orders.
Molded chocolates are a popular choice for fundraisers. For corporate orders, choose something online like a wooden gift tray, or let us know what you would like. Your employees will love it.
Contact us for more information.
Contact Us
Chocolate Bunnies
We have a variety of chocolate molds that can be used for fundraising.